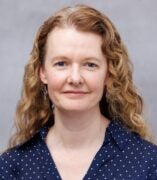 Colleen Kehoe, PhD
Director, Budget Model, Tuition & Data Analytics
Contact
Office Phone:
Email:
About
Colleen joined BFA in April 2019 as the Associate Director for the Budget & Financial Modeling team.  Her team's responsibilities include projecting and tracking tuition, analyzing and distributing student assessments, and supporting the budgeting process for state funds.  Her team also serves as the budget liaisons for the Provost's academic colleges.
She has been at UIC since 2002 and prior to joining BFA, Colleen worked in the Office of Grants & Contracts as the Senior Assistant Director for Systems.  Her primary duties included managing UIC's submission to the NSF HERD (Higher Education Research & Development) Survey, creating UIC's annual Report of Sponsored Project Expenditures, and the technical aspects of the annual campus Effort Reporting process.  Prior to joining Grants & Contracts, Colleen worked for UIC's Learning Sciences Research Institute, in a variety of administrative, technical, and research roles.
Colleen is a lifetime member of Girl Scouts and served as a leader and volunteer for 15 years.  She enjoys cooking, yoga, and spending time with her husband, son, and cat.
Education
2001, PhD, Computer Science (Educational Technology), Georgia Tech
2000, MS, Computer Science, Georgia Tech
1994, BS, Computer Science, Stevens Institute of Technology